Pacquiao floored the Hitman twice in the first round before ending the fight with a hard left to the jaw that sent Hatton sprawling to the canvass.

As promised, the Paquiao vs Hatton Replay Videos are now available to relive how Pacman dominated the Hitman, in four parts.


Update: Less than an hour after the Pacquiao-Hatton fight ended, tons of Pirated DVDs already spawned in Quiapo, Manila. The Optical Media Board was unaware of this, relaxing and celebrating with Pacman.
After a barrage of punches, the Manny Pacquiao vs Hatton fight ended with a TKO by Round 2, one of the easiest fights for Pacquaio. Here is a short Pacquiao Hatton round by round account because the fight lasted only two rounds:


Manny Pacquiao absolutely brutalized Ricky Hatton in less than six minutes moments ago at the MGM Grand Garden Arena in Las Vegas, Nevada to capture the Ring Magazine light welterweight title with a spectacular one-punch KO. Pacquiao met Hatton in the center of the ring at the opening bell and his superior hand speed and power was immediately evident. Pacquiao dropped Hatton with a big right hook in Round 1, and then sent him down again hard at the bell. Hatton came out for Round 2 and Pacquiao slowed things down looking to set up something big. Big it was. At the end of Round 2 Pacquiao landed a mammoth left hand that ended the fight with that very punch. The shot dropped Hatton like a stone where he stayed motionless for several moments. The fight was immediately waived off, giving Manny Pacquiao the world light welterweight championship, and a record tying sixth title in six weight divisions. "He was expecting my left, but we practiced the right hook," an elated Pacquiao said post fight. Hatton was unavailable for comment and was immediately taken to the hospital.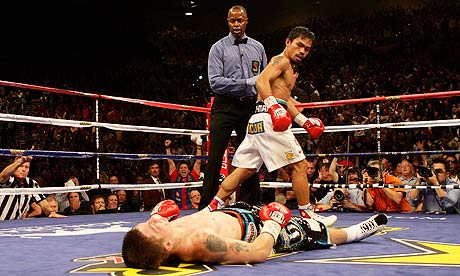 Two quick rounds and Hatton was out of the game! It took Hatton at least 5 mins to get up from a clear disappointment. The British fans had their moment of silence hoping that Hatton's just alright.

Pacquiao grabbed Hatton's IBO Light Welterweight crown. With the victory, Pacquaio become the first Filipino and Asian boxer to have five world titles at five different weight divisions, increasing his previous record of four.

Who will fight him next? Floyd Mayweather Jr. returned from his retirement, maybe to have a crack on Pacquiao. During the match, ZERO crime rate, ZERO traffic, (no cars on the road). Expect another sensationalized coverage by the Philippine media in the coming days.