Blog post from the self proclaimed cat serial killer that have been raged by animal activists, violating the Animal Welfare Act or Republic Act No. 8485. 18-year old JC Candare was forced to set his account into private. But our ever reliable google already cached it and some people began qouting them on their Multiply accounts.

Excepts from his blog post: (Source)

" ...On our way out of old NIP I saw the cat I almost killed last Tuesday. Now everyone knows I hate cats. It's an unexplainable feeling towards them. Like some internal hatred. Hindi ko talaga alam kung bakit pero anumang pagpipigil sa sarili ay hindi sapat upang mapangibabawan ang panggigil ko sa mga pusa (I don't know why but whenever I try to stop myself, I really can't because I get a kick out of doing these things to cats). I pulled it on its tail and threw it. Then like some pro wrestler I jumped on it and my feet landed on it's torso. Slam! Felt good! But the cat didn't die, well not yet. It ran for it's life and just as I was about to catch up on it somebody yelled: "Pwede bang pabayaan mo yung pusa?!" (Can you just leave the cat alone?). It was instant and involuntary. I stopped on my tracks. Nobody ever stopped me when assaulting cats. Well I guess there's always a first time for everything. The cat got away. Or at least that's what i thought. So we went to lunch Mel, Jayson, Tracy and me. After lunch, balik na sa kung anumang naiwang gawain (we just went back to do whatever we needed to do). Then Tracy and Mel told me " Hui Jc napatay mo yung pusa" (Hey JC, I think you just killed the cat).
Hours later, habang abala sa XRD, a guy came in. Tanong niya: "Sinong pumatay dun sa pusa?" (Who killed the cat??) Bang! Dat was me boi. Guilty as charged. I didn't see it die pero sabi ni Myles it coughed up blood or at least something like that daw. Didn't realize I gave it a fatal hit. This isn't the first time I've killed a cat but this time it's different. It didn't occur to me back then that the cat had a leash. So I think somebody owns it. Well it's very well loved in NIP from what I heard and I just ended it's life. So there you go I'm sorry. And I wont be striking another one for maybe about a month. It feels good when your beating it (a cat) up but you suddenly feel something strange when it turns off permanently. That's how I feel right now. And maybe for the next days. Dang, am I a cat serial killer?"

Epic FAIL !! There's an option to share it on selected recipients or did he post it on purpose?

Here's the letter of PAWS asking the UP College of Science for help tracking JC Candare, launch an investigation and file any disciplinary action.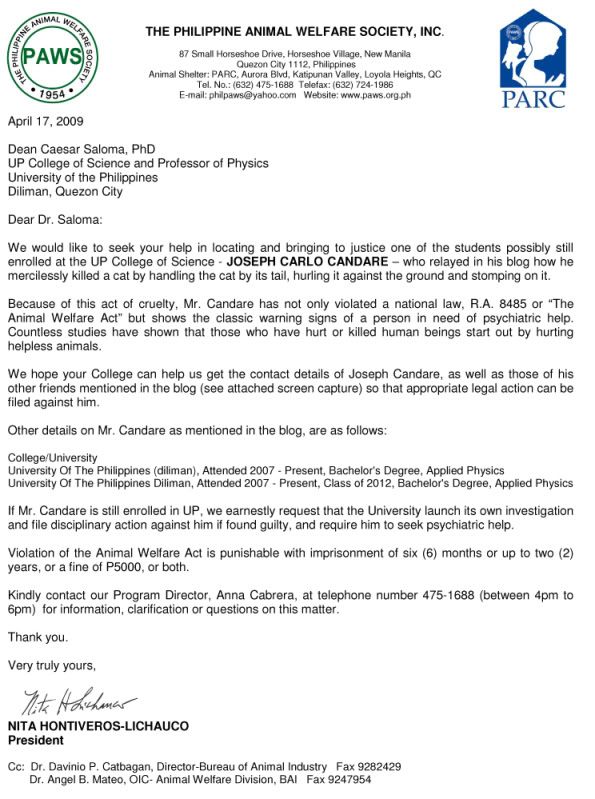 Batang Kay lupit
Ang Puso mo'y di na nahabag
'Pag Pumanaw ang buhay ko
May isang kuting na iiyak.

This guy has a lot of rage towards cats. Me too, there are times I want those cats pooping in our rooftop dead. It appears that this boy has an Antisocial Personality Disorder. He seems to be budding a serial killer tendency, having thrills with every kill. He has an urge, a sick urge, that could only be satisfied by cat murder. Maybe this guy is looking for an outlet for his strenuous college life.

I wouldn't be surprised if this sensationalized over our local TV.
* Update: This was featured on GMA7's Kapuso Mo: Jessica Soho. (as expected!)